The Like To Unlock (With Credits) plugin will allow your members to earn Credits / Points by LIKING your site (or any page you configure) to a Social Media Network of their choice – Facebook, Twitter or LinkedIn.
This is a powerful traffic getting social media plugin. It will allow you to show a sneak peak of your content and you can hide the juiciest part of your content behind a cool looking set of social media buttons. To get access to this awesome content that is hiding behind the buttons, all your users have to do is a Social Media LIKE to a social media network of their choice. They can like the WP content (page/post) to Facebook, Twitter or LinkedIn.
In addition to gaining access to the hidden content (free report, coupon code, special offer etc) upon a LIKE, you can use this plugin to AWARD credits upon a LIKE. It is fully integrated with our ground breaking new Credit Store Plugin. The users can redeem the credits they earn by going to the Credit Store on your site and picking a product or content of their choice. They can exchange the earned credits for content on your site.
You can encourage your members to participate in your community, by rewarding them for a Social Media LIKE OR for commenting on your blog posts or for a Facebook Comment. You can configure which posts will give them credits, and how many credits, and this plugin even has built-in security to prevent people from abusing this, and will make sure that they can't rack up too many points by repeatedly doing LIKE.
Infact even if a visitor comes to your site and does a LIKE, the credits are deposited in a cookie and when the visitor logs in to their membership, the credits are added to their membership account.
This plugin also comes with great reporting feature so you as an admin can track all the user activity.
Lets take a look at the steps to install and setup this plugin.
Like To Unlock With Credits & WCP License Plugin Installation
Every one of the WickedCoolPlugins requires a valid WCP License Key in order to work.
Please go to the "Downloads" page in the member's area and download both WCP License Key Plugin and LTU Plugin ZIP files. You will find your WCP license key on the Downloads page on WickedCoolPlugins.com. Without entering a valid license key, the LTU plugin will not work. You can install these plugins (WCP License Key and LTU) just like any other standard WordPress plugin (via WP admin -> plugins -> Add New -> Upload tab).
Activate both plugins, and enter your WCP license key under WP Admin – > Settings -> WickedCoolPlugins License section.
If needed, Click Here for step-by-step installation instructions for the WCP License Key Plugin.
After you activate both the LTU and WCP License Plugins, you should see this on WP Admin > Plugins page:

Like To Unlock With Credits => Setup
Step 1.
After you activate the LTU plugin, if you add/edit a WP page / post, you will notice a new LTU editor icon as shown below:

When you click on the LTU editor icon, it will bring up a LTU configuration page where you can configure LTU options for LIKE.
Step 2.
Now click on the LTU editor icon, it will bring up the LTU configuration page as shown below.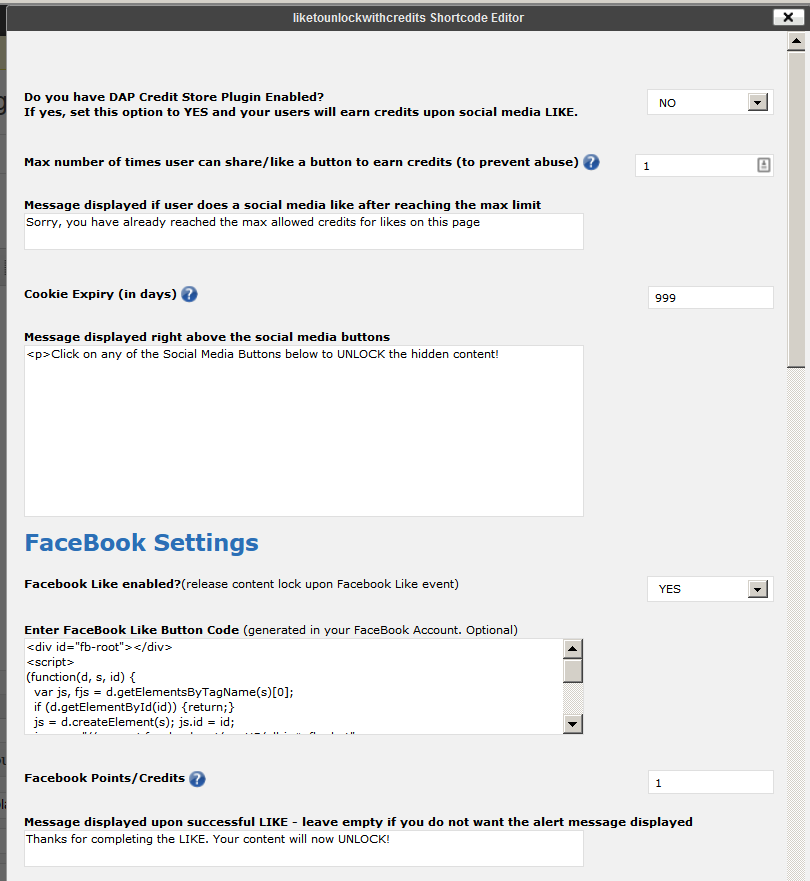 1. Do you have DAP Credit Store Plugin Enabled?
If you are using this plugin just to reveal content upon a LIKE and do not want any points awarded upon LIKE, then set this to NO.
2. Set the max number of times a user can share/like a button to earn credits (to prevent abuse). Default is 1.
3. Cookie Expiry
This setting is used to control the number of days for which content will remain unlocked after a user completes liking/sharing the page. After a user clicks on a social media button and completes liking/sharing the page, the content will become unlocked and will stay unlocked until the specified number of cookie expiry days.
4.  Message displayed right above the social media buttons
Any html content that you want displayed above the buttons can be added here.
5. Facebook Like enabled?
If you want FB like button to show, then set it to YES. Otherwise set it to NO.
You can leave the defaults in the 'Enter Facebook Like button code'.
Set the Facebook Points/Credits to the number of credits users should earn upon a FB like.
Set the alert message you want the users to see upon a successful FB like.
Complete configuring the Twitter and LinkedIn section in the Editor.
Miscellaneous Settings
You can customize the look & feel (color, text, margin) using the options under Miscellaneous Settings.
6. Click on Insert after you complete the LTU setup. You will notice the LTU shortcode will show up on the WP page.
Step 3.
Whatever content you want to hide, add it between the LTU (liketounlockwithcredits) start and end tag:
For ex –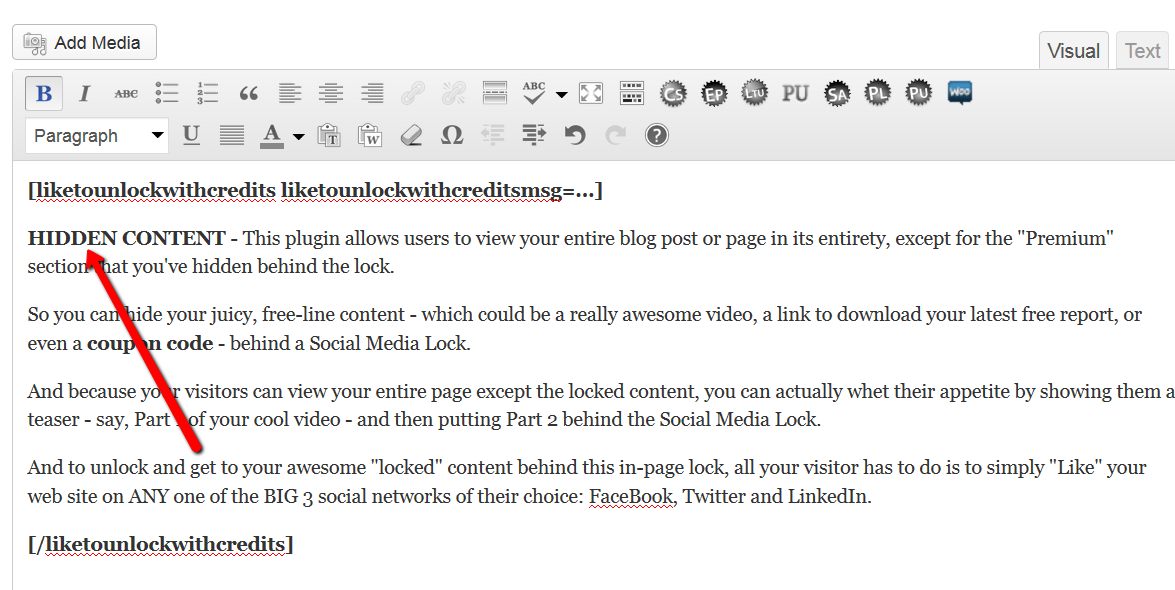 Step 4:
That's it. Now save/publish the WP page as you have already configured the LTU editor/icon options. You can visit this page in a browser and you will see something like this: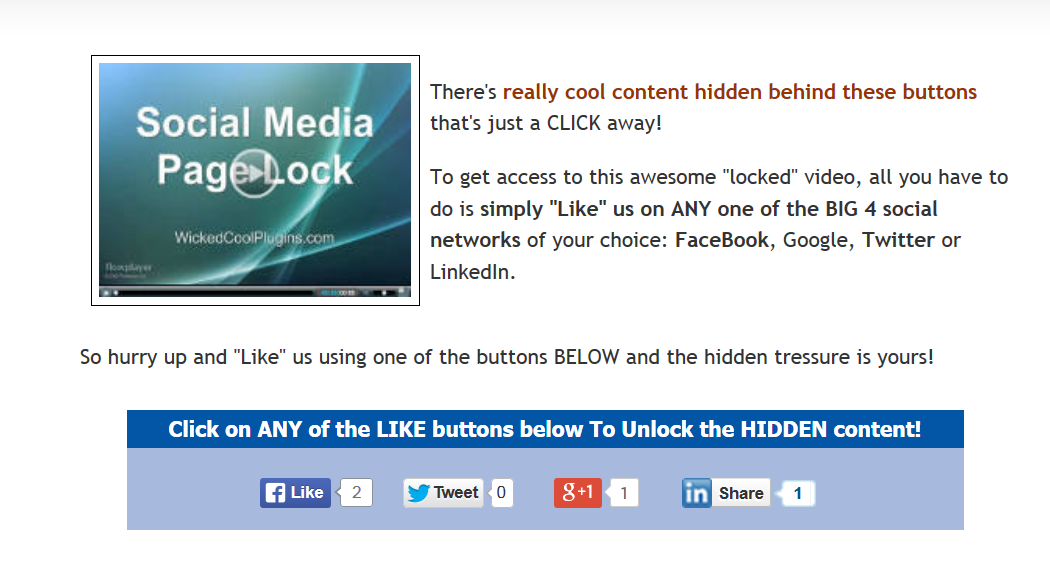 PLEASE NOTE:  Your users can login to their membership and then do a social media like to earn instant credits. Or they can visit the LTU page as a visitor, complete a social media like, the credits will be stored in a cookie and when they login to their membership next on this browser, the credits will be assigned to their account.
User Experience
When your users visit this page, they will do a social media LIKE to see the hidden / locked content on the page as well as get credits as bonus for the LIKE.
They will receive credits for 'successful' social media like and the credits will be deducted if they do an unlike.
Admin Reporting
You can go to DAP admin -> Credit Store -> Manage Social Credits page as shown below:

Click on Manage Social Credits to view the credits report per user as shown below:

This will give you full history of social media like event per user.