[jbox color="blue" vgradient="#fdfeff|#bae3ff" title="Upsells With Paypal Standard"]No Merchant Account Required![/jbox]
2-Click Upsells With Paypal Standard
You already know that Upsells are the fastest way to instantly increase per-sale revenue.
Can you imagine being able to increase your earnings by 10%, 20% or even 50% – just by plugging in this simple strategy right into your existing sales funnel?
And to think that you can actually achieve such increases in profits with your existing products, existing leads and existing customers!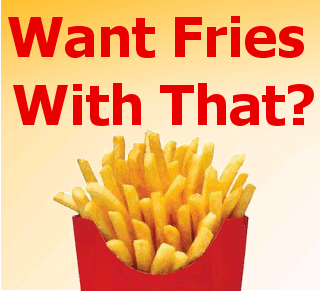 A majority of our membership site owners (who use DAP) offer Paypal as a payment option on their web sites. Paypal after all is still the leading and most trusted payment service for people to pay vendors online. Sign-up is fast and secure, there are no monthly fees, and you (the seller) don't pay anything until you make a sale.
Site owners like you have always asked us if there was a way to automatically take their buyers through an upsell sales funnel using just a regular Paypal Standard (Business/Premier) account, where the buyers can pay using just their Paypal account, without the site owner having to sign up for a merchant account with expensive monthly fees and per-transaction fees.
You asked… And we've delivered…
DigitalAccessPass.com (DAP) is now one of the few, exclusive membership platforms that gives you a way to do Upsells using just a Paypal standard account.
"… must have product in your marketing arsenal"
Jayc Ryder
I was setting up a very complex membership site and I knew DAP was the best product for it.
The content was adult in nature (Sexuality and swinging) and we needed a strong secure platform. Unfortunately due to merchant account complications we had to go with PayPal.
But it was important for our launch that we had the Upsell option. This is where the Paypal Upsell-Tree Plugin for WordPress was brilliant. The install was simple, then implementing was easier than I thought.
If you want to launch your product with an Upsell and have to use PayPal, then this plugin will be your must have product in your marketing arsenal.
Oh and the support is FANTASTIC!!!
Jayc Ryder
Swingerlifestyle101.com
Jaycryder.com
[jbox color="platinum"]Increase your earnings by 10%, 20% or even 50% simply by implementing upsells into your existing sales funnel![/jbox]
The New Paypal Upsell Tree (PUT) Plugin
If you wish to offer 1-Click Upsell and Downsell capability, where users enter their credit card information just once for the main product, and all following upsells are just "Add To Order" where they don't need to enter their credit card information again, then you can already do that with DAP's built-in shopping cart. And for that, you need to have a merchant account that allows you to accept credit cards.
DAP already has a built-in, free shopping cart that offers unlimited 1-click upsells where users can pay using a credit card. And there are no monthly fees for using the DAP shopping cart. And it comes for free with your purchase of DAP. But you need to have an Authorize.net or Paypal Website Payments Pro account.
But if you wish to do upsells with just a regular Paypal standard account, then you're now in luck!
Advantage: PUT
The biggest advantage of the Paypal standard Upsell-Tree (PUT) plugin, is that your members can pay using their Paypal account, and you can still take them through an Upsell/Downsell funnel, with unlimited upsells and downsells.
While this is not an instant 1-click upsell like you can do with credit cards, it's still just 2-clicks – as close as it gets to doing a 1-click with a merchant account.
A one-time log in to Paypal, followed by unlimited upsells and downsells, and then the final checkout.
The only limitation with using Paypal standard, is that a subscription product (that requires a monthly subscription) cannot be an Upsell.
But your main ("front-end") product – the one that they buy first – can certainly be a subscription product. And all the products that follow as an Upsell or Downsell, must be One-time products.
[NOTE: This is not a limitation of our plugin, rather it's a limitation of Paypal's APIs that are available for a Paypal standard account]
So the two main things you need to remember, are:
1) Final checkout and payment is at the very end of the flow
2) Subscription products must be at the front-end. Only one-time products can be sold as an Upsell or Downsell.
The Upsell Flow
Using PUT, your buyers will be transferred over to Paypal just once.
And this is what their checkout experience will be…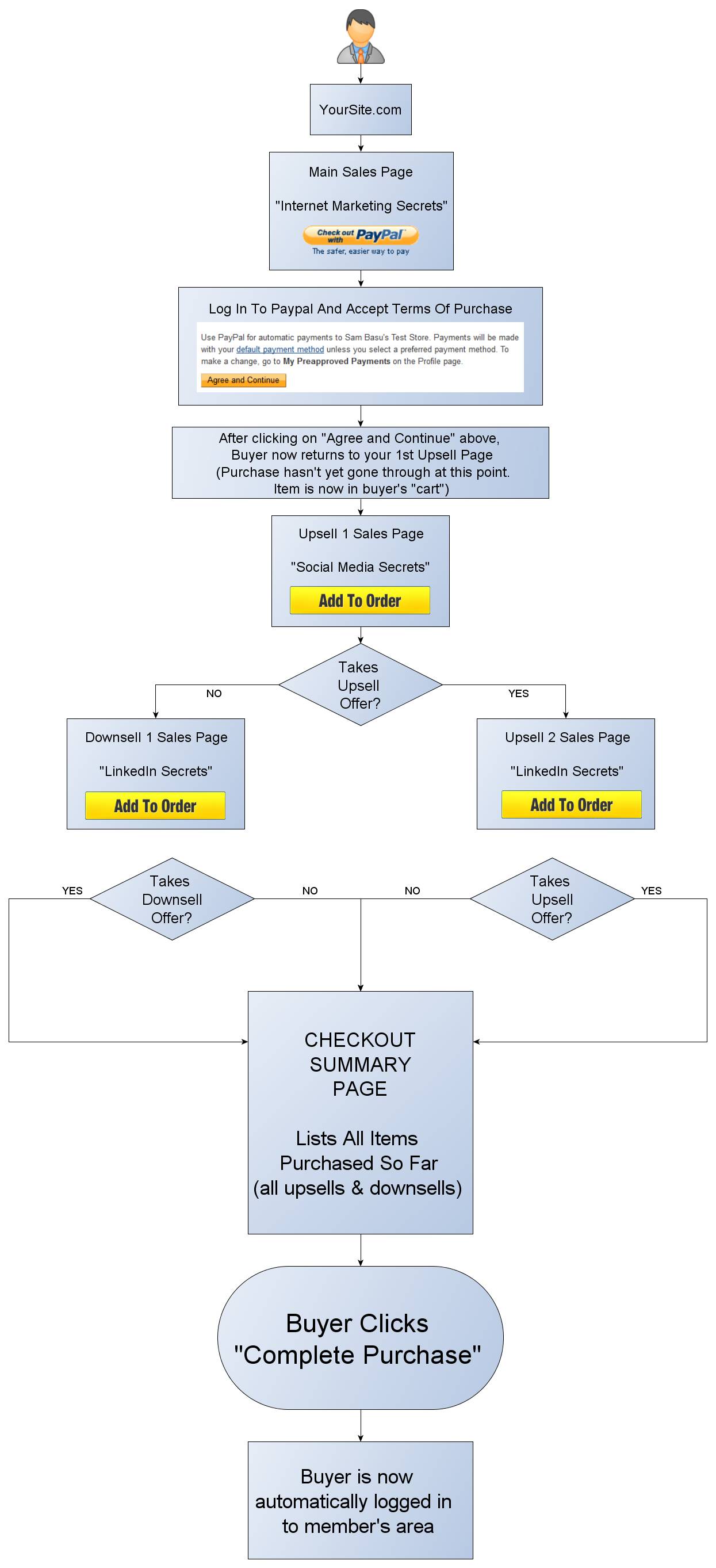 On your sales page, buyer clicks on the buy button of the front-end product
They get transferred to Paypal.com where they log in to their Paypal account
Once they log in, they click on a "Agree and continue" link
Buyer is then instantly and automatically transferred back to your web site, where they see your 1st Upsell page
Buyer decides to take the Upsell offer presented on that page, and clicks on the 'Add To Cart' button on this Upsell page.
NOTE: This time they are NOT transferred back to Paypal. Instead, they remain on your web site, and are redirected to your next Upsell sales page
If you do not have any more Upsells, then they are taken to the final confirmation page where they review their order and do a final checkout.
If instead of taking the Upsell offer, they click on the "No, Thank You" button, then they can be taken either to the next downsell, next upsell, or simply to the final confirmation page.
On the final confirmation page, the buyer sees a list of all the Upsell and Downsell products they have chosen thus far.
On this list, you (as the site owner) will have the option to show – or NOT show – a 'Remove Item' option. It's configurable.
If you allow them to remove items before the final checkout, then they can do so. If you don't allow this option, then all your buyer can do is review the final list, and then complete the purchase.
When buyer clicks on the "Buy Now" button on the final confirmation page, that's when the entire purchase is actually completed with Paypal, and that's when Paypal transfers the sum total of all individual product purchases from buyer's account to your Paypal account.
A few seconds later, the buyer is now automatically logged in to the member's area on your site. They don't need to enter a email or password – they're logged in automatically. And as the site admin, you will have the option to configure where the users are redirected to upon logging in.
We do ONE final transaction with Paypal instead of individual transaction per upsell order because of limitations with Paypal Standard APIs.
So it's not really a plugin limitation.
You can customize and control every single aspect of this flow.
And all of this comes packaged with a beautiful checkout screen and fully customizable payment links that you can easily create and add to any of your front-end or upsell/downsell sales pages.
[jbox color="green" title="
Purchase Options
"]
[jbutton color="gray" size="medium" link="/buyput1.php"]Buy PUT – 1-Site – $97[/jbutton]
[jbutton color="orange" size="xlarge" link="/buyputu.php"]Buy PUT – Unlimited-Sites – $197[/jbutton]
[jbutton color="green" size="large" link="/buyputups.php"]Buy PUT – Unlimited-Sites w/ 1 Hour Setup – $297   $247[/jbutton]
[/jbox]
[jbox color="blue" vgradient="#ffffff|#CDDBF4″ shadow="7″ jbox_css="border:1px solid #9d9d9d;"]
Minimum requirements: Paypal Standard (Business/Premier) account, DAP v4.4.3, SSL on your site (for secure Upsell communication with Paypal)
PUT Unlimited-Site license with 1-Hour Setup normally costs $297 ($197 for the plugin, plus $100 for a 1 hour One-on-One call with Veena/Ravi).
PUT only works with DigitalAccessPass.com (DAP)
You must be running – or willing to upgrade to – DAP v4.4.3.
BETA: Even through the new version of PUT is now being used on many live web sites of many DAP users for months, we're still officially labeling this a beta, because this is the first time we're doing a big public launch to all of our DAP users. PUT being a beta is also one of the main reasons why you're paying less for it during the launch.
[/jbox]