DAPTicket (DT): Support Ticket System
DAPTicket (DT) is software that you install on your own DAP-powered membership site, that enables your members to open tickets to get help with questions about Billing, Product Support, Pre-Sales, Technical Support, etc. And you get a fully functional, powerful ticketing system to manage the tickets, assign it to others on your team, and respond to the support tickets from one centralized location.
DAPTicket Features
A "Members-Only Ticketing System", so you can keep non-members and expired members out.
Fully integrated with DAP
Supports Single Sign-on with DAP. If they log in to DAP on your site, they are also automatically recognized by the ticketing system, and can open tickets without having to enter their name or email address again.
You can set up "Rules" that decide which DAP products are eligible for support (and hence, which ones are not) – available since DAP v4.3
You can force members to log in to DAP on your site first, before they can open a support ticket. This eliminates the problem of members using a completely different email id (than used in their membership account) for the ticketing system, then you not being able to recognize who they are, and then having to ask them what their member email id is after they've opened the ticket. As you can imagine, we too face this problem with our current support system at DigitalAccessPass.com, which was a big part of our motivation to create this new ticketing system.
If a member's access to a product has expired, or if they've gotten a refund, they will not be able to open a support ticket
You can also configure a "Renewal Link" in the rules, so if a member's access has expired, they will automatically be taken to the renewal page where you can sell them on the benefits of renewing.
A fully automated, "Do It Yourself" support system for your members: They can open new tickets, update existing tickets, upload files along with the tickets, and view the status of all of their current and past support tickets via an easy-to-use support dashboard.
As the site admin, you will get notified on all new tickets, updates to existing tickets, alerts about overdue tickets, etc.
You can also create any number of "Departments" – like Billing, Product Support, Technical Support, Pre-Sales, etc
NOTE: DAPTicket is our custom fork of an existing open-source ticketing system, which we have customized and fully integrated with DAP. Plus we're offering 1 year of free support for our custom-modified version – something that you can't get for an open-source solution – not for free anyway. And we have changed it quite a bit to work with DAP, so we will continue maintaining the fork going forward.
NOTE 3: Plus, we're only just getting started :-). Since we are already using the system ourselves, we're going to know exactly what features to add, and which ones to improve. And, as user feedback comes in, it's only going to get better and better with each new release.
And for a limited time, you can get this entire system for free!
What You Get
Here's what you get with the DAPTicket Plugin:
The entire Support Ticket app (it is a stand-alone system – not a WordPress plugin)
Includes scripts that contain the DAP integration
The "DAPTicket Rules" scripts that go into your "dap" folder
Free 1-year of support and upgrades
You can easily install it yourself. However, if you would rather have us do it, then installation may be purchased for a nominal fee of $49.99.
And for those who would rather pay someone else than do it themselves, we will soon be offering a  "Done For You" package for DAPTicket (more details on that when we release it)
Here are some screen-shots of DAPTicket…
DAPTicket: Support Home Page (click to enlarge)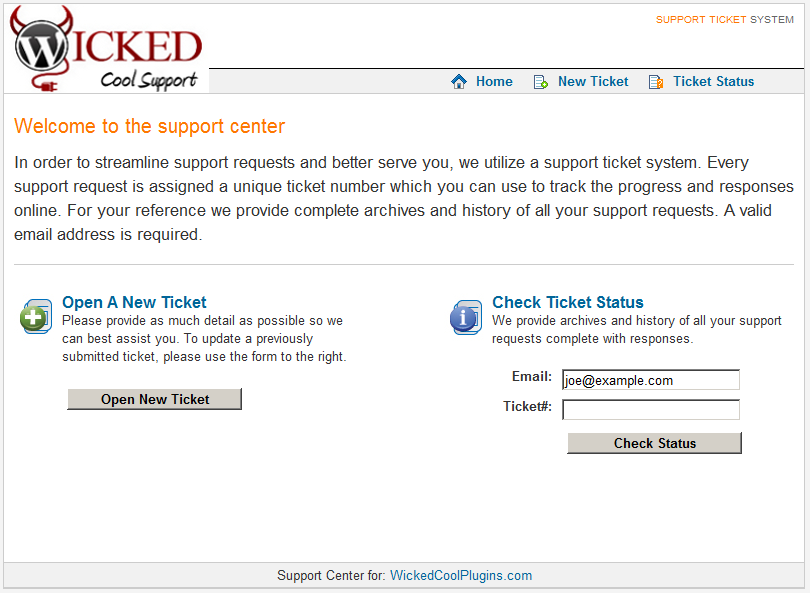 Of course, you can use your own logo and footer links – you don't have to use ours. That's just to show you how we've customized it for ourselves.
DAPTicket: Open New Ticket (click to enlarge)
DAPTicket: View Ticket Status (click to enlarge)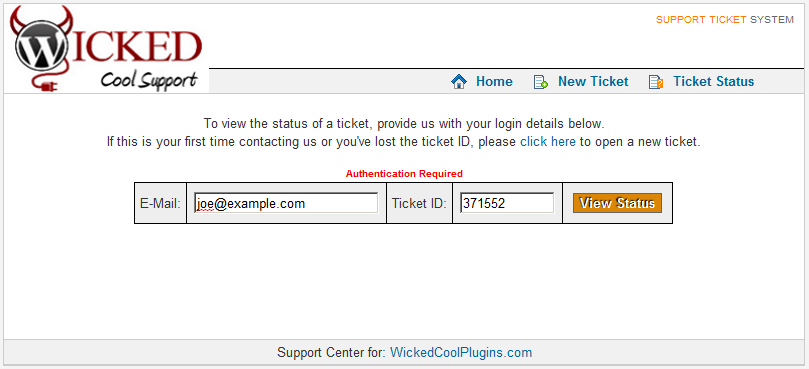 [jbox color="green" title='
Purchase Options
']
[jbutton color="orange" size="xlarge" link="/buy-now/"]Get DT Free w/ WCP Unlimited[/jbutton]
[jbutton color="gray" size="large" link="/buydt.php"]Buy Just This Plugin – Unlimited-sites – $97[/jbutton]
[/jbox]
[box]IMPORTANT: [highlight]Unlimited-Site License is NOT for use on client sites[/highlight], JV sites, partner sites, friend/family/church/organization web sites. It is only for use on your own web sites.[/box]