Imagine you're at a restaurant…
…ready to order food. And you tell the waiter, "I am really in the mood for some ice-cream".
The waiter looks at you and says "I'm sorry, but you must first order something to drink, then eat the salad, then the entree, and only then can you order dessert"!
Not cool, right?
Even though we developed the first membership plugin (DAP) that allowed Content Dripping, we understand that dripping content may not always be the best for your members – especially if you have a lot of content, many different related modules, and you have members who are eager to learn from you, want your content, and want it now!
But at the same time, you can't give out all of your content on the same day either!
So what do you do?
Is there a better way to do this?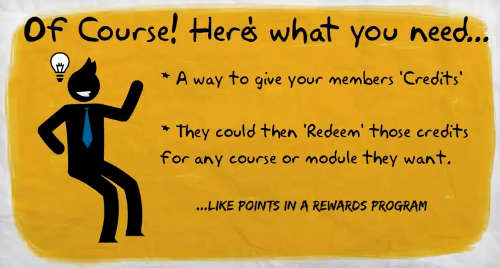 Well… that's where our new plugin Credit Store comes in.
[jbox color="black" vgradient="#fdfeff|#bae3ff" title="<h2>Credit Store: How It Works</h2>"][/jbox]
Say John is a new member who has just signed up for a subscription for your "Internet Marketing Secrets" course.
And you now have the Credit Store plugin installed. Which means John doesn't have to "wait" for your content to be dripped in that same order that you chose yourself. He is no longer restricted by your chosen order of content delivery.
He can get the content that he wants, when he wants.
We call it "Content On Demand".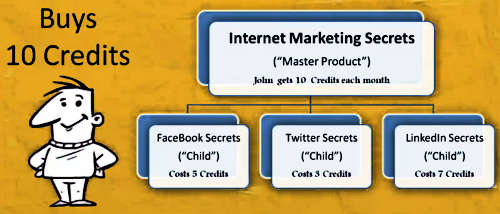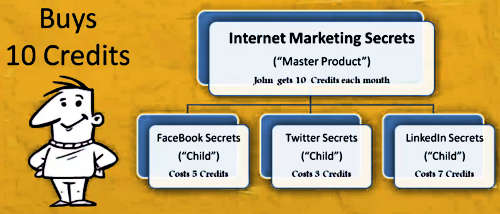 So once he subscribes to your monthly subscription product, "Internet Marketing Secrets" – which we call the "Master" product – John gets awarded 10 credits every month.
He can now redeem those credits towards any of the "Child" products.
So armed with his 10 credits, he goes to the "Credit Store" on your site.
There he sees all the content available in the store, along with how many credits are required to purchase each of those products or modules.
He can also see how many credits he has in his account.
And he can see how many credits he needs for each product.
He can even redeem his credits towards individual posts ("Pay-Per-Post with Credits") within a course, or towards an entire course at one go if he has enough credits in his account.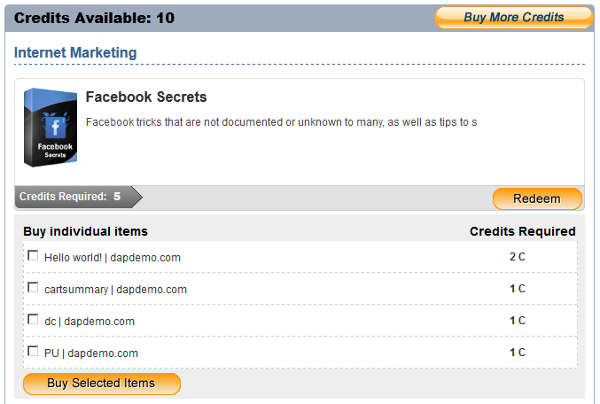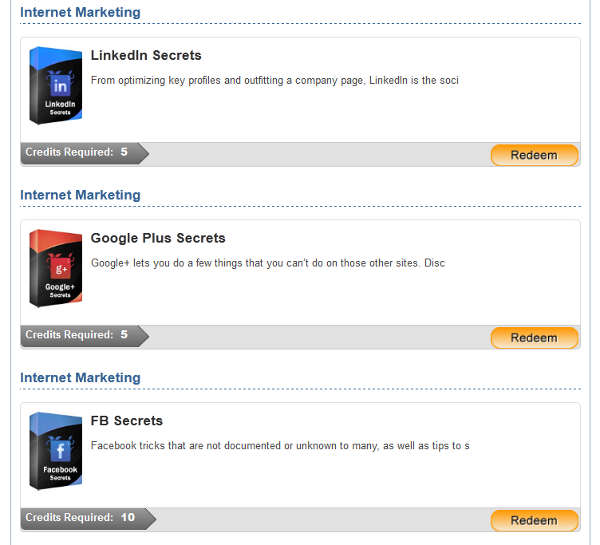 Then each month, with each recurring subscription payment, he gets more "Credits" added to his account. And each month, when he goes to the "Store", he will see the content that he hasn't "redeemed" yet, and can then redeem his available credits for exactly the content that he wants for that month.
As the DAP Admin, you can be creative with how many credits you assign to each of the child products – the more valuable a product – like if it has more content than the rest, takes up more support, or simply teaches more stuff – then the more credits you can assign to it.
It's like in a casino. Your member gets a whole bunch of chips at the door. He can then go and play the slot machines, or sit at the poker table.
And when it's all done, he can go buy some more credits if he wants.
And the next time he walks in the door after a month, he gets given more free credits to play with!
You can also set up a product just to sell credits.
And all of the credits he buys, goes into his account, and then that becomes available for redeeming against further content.
[jbox color="black" vgradient="#fdfeff|#bae3ff" title="<h1>Credit Store: Earning Credits</h1>"][/jbox]
In addition to your members buying credits through purchases, you can also incentivize how credits are earned.
You can reward your members with free credits simply for spreading the word about your site. Here are 3 ways in which your members can "earn" credits on your site.
Credits For Referrals
DAP already has a built-in affiliate program that allows you to pay affiliates with cash for referrals. Now you can also award them credits. Not just for a sale, but they can even get credits simply for referring new subscribers to your free list! And paying with credits is a great way to incentivize your members to bring in other members.
Credits For Comments
You can encourage your members to participate in your community, by rewarding them with credits for commenting on your blog posts. (insert screenshort of Admin UI for this). You can configure which posts will give them credits, and how many credits, and this plugin even has built-in security to prevent people from abusing this, and will make sure that they can't fraudulently rack up too many points by repeatedly adding junk comments.
Credits For Likes
Your members can also earn credits simply for "liking" your post or page on the social network of their choice – and they have 4 to choose from: Facebook, Twitter, Google Plus and LinkedIn. (insert screenshot of admin ui)
[jbox color="black" vgradient="#fdfeff|#bae3ff" title="<h2>And This Only Changes.... EVERYTHING!</h2>"][/jbox]
[jbox vgradient="#ffffff|#d8d8d8″ shadow="7″ jbox_css="border:1px solid #9d9d9d;"]
The Credit Store Ain't About You…
It's about your members!
Here's why your members are going to love you for doing this…
They can get "Content On Demand" – no more waiting for dripped content
They can purchase individual posts/pages within a given product – it's like "Pay Per Post", but using credits.
They can earn credits for simply signing up to your membership product (you can offer this as a bonus for users that purchase higher level membership)
They can "earn" credits for referring others to your web site.
They can "earn" credits for commenting on blog posts and pages and participating in the community
They can "earn" credits for sharing your site with their friends on Facebook, Google+, Twitter and LinkedIn.
At the end of the day, every credit they buy or earn, they can redeem towards YOUR content – so it all comes back to you.
You win, they win.
[/jbox]
[jbox color="green" title="<div align='center'><strong>Purchase Options</strong></div>"]
[jbutton color="gray" size="large" link="/buycsu.php"]Buy Just This Plugin (Unlimited-sites) – $97[/jbutton]
[jbutton color="orange" size="xlarge" link="/buy-now/"]Buy ALL 9 WickedCoolPlugins[/jbutton]
[/jbox]
[box]IMPORTANT: [highlight]Unlimited-Site License is NOT for use on client sites[/highlight], JV sites, partner sites, friend/family/church/organization web sites. It is only for use on your own web sites.[/box]